Installing Boat Stereo vs Waterproof Bluetooth Portable Speaker
Whether I'm out fishing, going for a cruise or hanging out on a sandbar somewhere, being on the water pretty much requires music. However, out of the 4 boats I've owned, only 1 had a stereo already installed. But since it was an older used boat, the marine speakers were all but shot and the radio itself was quite old.
The other boats had no stereos so I've had to either install one or try some other options. Thankfully, boaters today have many different options for getting tunes onboard – from full blown stereo installs to micro portable waterproof Bluetooth speakers.
Here's the different setups I have tried and what I liked and disliked about each option.
Using a Portable Bluetooth Marine Speaker or Stereo
Before I installed the JBL amp & speaker setup, I briefly tried a Sony "sport" outdoor portable stereo that ran on rechargeable batteries which turned out to be a huge PITA and a waste of money.
I had to purchase rechargeable D batteries and a charger, along with the $119 stereo so I was into it about $200. In hindsight I should have just put the money directly into the stereo installation immediately. The stereo didn't hold up for more than about 6 months in a saltwater and beach sand environment and having to remove the batteries, charge them in batches (the charger only charged 4 at a time, and the stereo used 8) – remembering to do it and dealing with it was sub-optimal. I don't recommend this route at all but I tried it because at the time most Bluetooth speakers were very small and not waterproof.
Today, the options for a Bluetooth waterproof portable speaker are much better. I have tried many 4 of them personally on my boat, along with having tested every one I can get my hand in stores. Here's my 2 favorite ones from opposite ends of the dollar spectrum:
NuuWave Portable Waterproof Sandproof Speaker
If you want better (and louder) sound, you will have to go bigger with the speakers. There's no way around it. So if you have a little extra room on your console or a place to lash this speaker to and want portable, the Nuu Wake is my absolute favorite and most recommended.
It is rather large at approximately 13 x 4 x 4 but due to the size you get 2 woofers and 2 tweeters. The handle makes for a good point to bungee to, and is what I use to attach it to my above-windshield grab rail. My console is fairly small and this is a snug fit but stays put once attached.
The sound quality is excellent – especially considering it is a portable speaker! It is loud enough everyone on my boat can hear it over the motor while running. I've had it for about 3 months now and not a single sign of rust or any complaints. Just remember though, if you plan to run it at max volume for a while, you will need to recharge it sooner.
If small and cheap is what you're into, I recommend looking at the Cooligg waterproof bluetooth speaker. At a very compact 2 x 2 x 6 and the triangular shape, it will fit neatly in almost anything – a cup holder, behind your GPS unit or use the lanyard to hang it from something.
Best of all it only cost $35 which makes it nearly disposable and we all know how long things last in marine environments.
Sound quality is decent considering the cost but after about a year I am seeing some surface rusting on the grille.
Pros & Cons of Bluetooth Portable Speakers
Pros:
Choose your size & Choose your budget
Rechargeable
No labor / installation
Bluetooth
Take it to the beach with you
Use it for other applications (a BBQ for example)
Cons:
Various level of volume, most are not very loud
Some lack significantly in quality of both audio and manufacturing
Yet another thing to load onto the boat or chance forgetting
Installing a Marine Boat Stereo & Speakers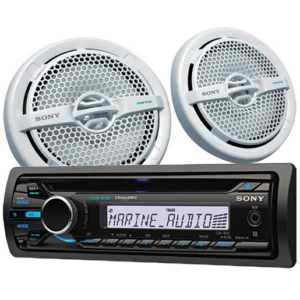 Installing a boat stereo can be a lot of work (or cost if you're having it done for you) but the sound quality and convenience once installed can make up for the effort. If you are replacing an existing stereo then of course this can be a lot less work since most of the wires are already there, and the holes have been cut for mounting the speakers.
My first boat I owned already had 2 speakers and a stereo, but the speakers were shot and the stereo wasn't inspiring much confidence as far as its longevity. I decided to replace them both with a 2-speaker and stereo combo from West Marine similar to the one on the right.
Installation of the marine stereo & speakers combo was quite simple, especially for the speakers. To install the speakers, I removed the grille, then unscrewed the old speakers and disconnected the wires, making sure I kept track of which was positive and which was negative. To install the new speakers, I plugged in the wires and screwed the new speakers in place. I did have to drill one new hole since the pattern was just slightly different.
Installing the stereo head unit was a little bit more work but not hard. The biggest challenge is accessing the wiring, since almost everything in a boat (especially a smaller one) can be quite cramped.
The stereo head unit had to have it's wires matched up with the power wires and switch wire that were already in place, and then had to get the speaker wires connected to the back. After about an hour of back-cramping awkward-positioned work I was done with the head unit install. Overall time spent: just under 2 hours.
I was fairly happy with the results. The combo I purchased was a mid-to-low level combo so I didn't expect a whole lot from it. The sound was decent, but not overly loud and turning it up beyond the speakers limits would end up with distortion due to overpowering the bass level.
Pros:
Relatively simple install
Nothing extra to carry onboard
Runs off boat battery
Louder than many other options
Not super expensive (I paid about $120)
Plays CDs, radio, MP3
Some models have Bluetooth
Cons:
Medium quality sound
Not loud enough to hear over my 2-stroke outboard
Can take a significant amount of time if adding all-new wiring & cutting holes
Installing Boat Speakers & Amp, But no Stereo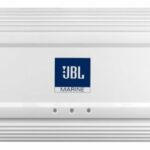 Wait… no stereo? Yes that's right. You can purchase a kit or put together components yourself that allow you to connect a phone, iPod or other music device directly to the amplifier.
My second boat didn't have any speakers, amps, stereos or anything installed previously. There also wasn't a whole lot of room on the console to add a stereo head unit at least not in a spot that would be convenient. After looking at lots of different marine speakers, amps and stereos at Amazon, I purchased a JBL marine amplifier, JBL 6.5″ speakers, MTX 7.7″ speakers,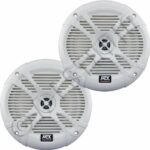 a spool of marine grade speaker wire, some marine grade power wiring and an RCA to Mini adapter cable so I could plug my phone directly into the amplifier. I also purchased a high quality car-audio fuse holder.
Installation was kind of a big deal. I didn't want to deal with running the wires and cutting all the holes for the speakers, so I had my local marina do that part. For about $200, they cut the holes where I wanted them, attached the speakers and ran all the wires to the center console.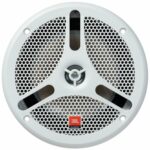 Even with most of the "hard" work done for me, I spent the better part of 6 hours finishing the install. I had to get something to mount the amplifier to which ended up being a piece of marine polymer "lumber" attached to the floor of the console with aluminum angle. I test-fit everything and then performed the final install and wired everything up.
I was really happy with the results once I tuned the amp. I had spent about $600 including the marina labor total for this setup.
Pros:
Great sound quality
Very loud – easy to hear over motor or while standing on the sandbar, away from boat
Nothing extra to carry onboard
Runs off boat battery
Plugs in to anything with a Stereo Mini plug (iPhone, iPod, etc)
Cons:
Most expensive at $600
Labor intensive installation
Harder for novice to complete
No Bluetooth wireless connectivity
No radio or CD for those who desire it
Which Do You Prefer?
Well you've read my experience and what works well for me. Which one of these options looks the most appealing to you? Or have you used a different setup that you think is worth sharing?