How to Find Rare or Hard-to-find Boats for Sale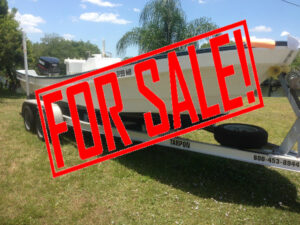 If you're looking for a very specific, hard to find boat for sale you probably already know how frustrating it can be so I don't need to re-hash all those painful details about how common it is to run across an old listing that someone hasn't removed or calling the dealer only to hear "we just sold it yesterday."
I've been there, with cars, trucks, boats – you name it. I seem to always want something that is different from the mainstream so I've come up with ways to help find those things easier.
Here's the things I do when looking for a hard to find boat:
1. Contact the Manufacturer
This generally isn't helpful if it's a big manufacturer as they just pump out boats and rely on their dealer network to sell them. In most cases they only hear from customers when there's a warranty problem, and even then dealers can be the middle man. So calling Maverick Boat Company trying to find a used Pathfinder 2300 DV is a long shot. I'm not saying don't do it because it could result in a lead but just don't get your hopes up. Some smaller manufacturers that I won't name also have a reputation of arrogance and poor customer service so I don't expect those to be helpful either.
In my case, I contacted Dolphin Boats. The owner is a helpful chap named Karl who maintains a list of who is looking for what type of used Dolphin so if he comes across one (customers sometimes ask him to help sell or who to sell through) he will put the buyer and seller in touch.
I also suggested to someone on a forum who was looking for an elusive Calcutta 263 that they contact the factory. They did and got lucky and became the proud new owner of a 2006 Calcutta 263! This is a perfect example of how someone posted a wanted ad on a forum (see below) and I as another forum member gave them an idea and they found a boat from contacting the manufacturer.
2. Search Relevant Forums
Find the type of boating or Fishing Forum relevant to the boat you're looking for and look at the boat for sale ads. Here's a few example forums and what they're about.
This is just a quick sample list. You can create your own by finding relevant forums with a Google search. For example, if you live in Texas you could search for "Texas Fishing Forum" and see what comes up. You can also search based on boat type such as "Cruiser boat forum."
Look at the post dates and see how active the forum is to see if it's worth registering and posting on that particular forum. If most posts are old and there isn't a lot of activity, it probably isn't worth it.
3. Post a Wanted Ad on Relevant Forums
Once you're a member of those forums, many allow for wanted ads. Go to the right category – sometimes the "wanted" section and some times just the main "for sale" section – each forum is a little different with their organization and rules and post a wanted ad.
I recommend posting a dollar range, year range and being specific in the model you want. If you are looking for the Pathfinder 2300 DV post something titled similar to "WANTED: Pathfinder 2300 DV in Any Condition & Location" or whatever is relevant to you. If you post "Boat Wanted" people will ignore it – especially forum regulars – because they become frustrated after a while with the repeated "newbie" posts.
In the body of your post, put your contact info, budget, location if you're only looking in a certain area and any other preferences on the boat – ex: with trailer preferred
Here's the most important part: Make sure your forum settings will email you with "instant" replies to the post and notify you if you get any private messages. This is hugely important because if someone responds, you want to get the response notification. Without these settings in place you may never see the replies and you won't see any leads.
4. Become a Forum Regular & Include Your Wanted Ad in Signature
Many forums allow for a short signature line. Go to the forum settings and put the title of your wanted ad as part of your signature. This way any post you make will show everyone reading it what boat you're looking for and people can send you a message if they have one or know of one for sale.
Generally this only works if you are an active forum member. If you're not active then people won't see your posts with your signature. Simple, right?
Be sure when you're involved in the forums to not only be self serving but to contribute meaningful and useful information. This includes asking questions if you're not yet familiar with the type of boating you're wanting to get into. Just be humble, respectful and join in the conversation in a way that adds value.
The more you become involved, the more people see your signature and hopefully as a forum regular people will be more willing to help. It may not happen overnight, but if they see one for sale on their commute and remember your ad, some times people will send you the contact information. This is a great way to find boats that others don't know about.
5. Create a Google Alert
If you didn't already know it, Google will alert you if it finds new results that match your search. First you need to fine tune your Google search to filter out any unwanted results and then use that search query and create an alert. You could start with something simple like "pathfinder 2300 dv for sale" – then just set the alert for that search query. Google will send you a notification (per the preferences you set – I like to be emailed) when it finds something that matches your result. You may get a few old results at first, but generally speaking after that you will only get alert notifications for new results.
This is super handy, because Google crawls everything it finds. Every forum, every website, Craigslist, etc.
6. Create a Craigslist Alert
Craigslist has a similar alert function. Theirs can be somewhat annoying with false-positives because every time someone renews their ad you will get a notification even if they've sent you a notification of that ad before.
The other challenge with Craigslist is if you want to search nationwide and use their alerts, you have to set it up for every location you are interested in. This can be a huge pain.
There are some "search all craigslist" types of sites out there and some offer alerts or RSS feeds of results. You could try these also.
7. Contact Brokers & Boat Dealers
Contacting brokers or boat dealers can be helpful because if they run across a person who has the type of boat you're looking for and is thinking about selling it, or asking general questions about trade-in the broker or dealer can make the deal happen before there is a for sale ad posted to the general public.
This is a win-win-win situation when it works out. The seller gets the boat sold immediately, you find the boat you're looking for and it's not on the open market, and the broker or dealer gets a quick and hopefully easy transaction.
You can do this by calling around and if you have a boat show that is convenient both time-frame and location wise, that can be a spot to talk to a lot of brokers in one room.
8. Walk the Docks
Depending on the type of boat you're looking for, many (especially larger ones) are water stored in marinas. Check out local marinas, walk the docks and look at For Sale signs. If the marina doesn't allow public access, ask the office if they know of any for sale. Leave your contact info and what you're looking for on a business card.
9. Word of Mouth
Ask around! If you're at the boat ramp or run into someone while hanging out at the beach or sandbar on your current boat ask around. Or maybe you see one that isn't listed for sale in a marina slip or at a waterfront restaurant. Try to find the owner and ask if they'd consider selling. Many times everything is for sale – it's just about the price. Or they may have a friend with a similar boat. Some really hard to find used boats sell only by word of mouth so getting into the loop is critical.
Ask your independent mechanic. They may run across a boat that someone no longer wants, or blew the motor on and doesn't want to fix (or have the money) and the mechanic can put you in touch. Just be sure to treat the mechanic well by either giving them a finders fee or if the boat needs work having them do the work for you. Don't forget those who help you out!
10. Search Boat Classified Sites
While this isn't terribly productive sometimes it can pay off. Visit some of the main boat classified sites and see if the boat you're looking for is for sale.
Here's a few examples:
Some sites may offer a notification feature of new ads that match your search. If they don't you can also browse by make or type and usually that page lends itself to being bookmarked better than a search result. I create a bookmark and visit that page often – I even keep this bookmark on my iPhone so when I'm waiting in line or otherwise killing time I can click on it to see if there are any new results.
11. Search eBay
eBay can have some really great deals occasionally and anything with collector value can be even more interesting there. Search eBay and then save your search so you can be alerted to new auctions and listings that match your criteria.
What about you?
Do you have any tricks for how to find rare or hard-to-find boats for sale? I'd love to hear your tricks and tips. Please respond in the comment area below.