Minn Kota Riptide ST Bow Mount Trolling Motor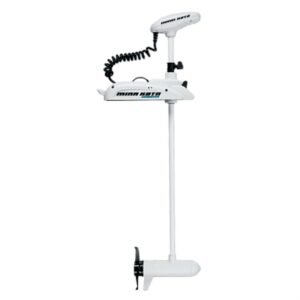 Minn Kota's Riptide ST tops the line of Minn Kota trolling motors for saltwater applications with up to 101lb of thrust. You can choose from a basic model with just Co-Pilot remote control (available either via remote or foot pedal) or optionally include Auto Pilot and GPS i-Pilot to suit your personal needs. If you decide to start with the most basic model with just Co-Pilot, you can also upgrade all the way to the GPS integrated i-Pilot in the future by replacing the head for a relatively reasonable price.
The Riptide ST is packed with every feature Minn Kota offers for this type of engine from the standard durability items such as composite shaft, sacrificial zinc anode, and fully encapsulated electronics to Digital Maximizer technology and an easy deploy feature in the Terrova mount. You'll be hard pressed to finda more durable and well rounded trolling motor anywhere.
Prices for Riptide ST
Thrust levels for Riptide ST:
55lb, 80lb, and 101lb
Riptide ST Specifications:
Electric Steering
Available in 48″, 54″ and 60″ shaft lengths
Available with Weedless Wedge 2 propeller
Composite Shaft Construction
Digital Maximizer included on all models
Terrova mount on all models

Model			Volts	Shaft	Speeds		MSRP
Riptide ST 101/i-Pilot	36	60"	Variable	$1749.99
Riptide ST 80/i-Pilot	24	60"	Variable	$1449.99
Riptide ST 80/i-Pilot	24	54"	Variable	$1439.99
Riptide ST 55/i-Pilot	12	54"	Variable	$1179.99
Riptide ST 101/CP/AP	36	54"	Variable	$1599.99
Riptide ST 101/CP/AP	36	60"	Variable	$1609.99
Riptide ST 80/CP/AP	24	54"	Variable	$1399.99
Riptide ST 80/CP/AP	24	60"	Variable	$1409.99
Riptide ST 80/CP	24	54"	Variable	$1189.99
Riptide ST 80/CP	24	60"	Variable	$1199.99
Riptide ST 55/CP/AP	12	48"	Variable	$1109.99