Minn Kota Riptide SM Bow Mount Trolling Motor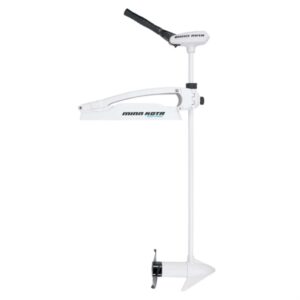 The Riptide SM bow mount trolling motor from Minn Kota was built with reliability and durability as key objectives. It seems they have succeeded. The Riptide SM is a highly respected, powerful trolling motor that stands the test of repeated saltwater usage with fully encapsulated electronics and a sacrificial anode mounted to protect the motor from destructive corrosion.
Minn Kota's Riptide SM is mounted either via the Latch & Door design or Bowguard 360 depending on the model you choose (see list below) but the most popular 80lb thrust models are available in both, leaving the choice up to you.
Prices for Riptide SM
Thrust levels for Riptide SM:
55lb, 70lb, 80lb, and 101lb
Riptide SM Specifications:
Manual Tilt/Extend Tiller Control
Available in 42″, 52″ and 62″ shaft lengths
Available with Weedless Wedge 2 propeller
Composite Shaft Construction
Digital Maximizer included on some models
Bowguard 360 mount available on some models

Model			Volts	Shaft	Mount		Speeds		MSRP
Riptide SM 101/BG/H	36	62"	Bowguard 360°	Variable	$1019.99
Riptide SM 80/L&D/H	24	52"	Latch & Door	Variable	$889.99
Riptide SM 80/BG/H	24	52"	Bowguard 360°	Variable	$909.99
Riptide SM 80/BG/H	24	62"	Bowguard 360°	Variable	$939.99
Riptide SM 70/L&D/SC/H	24	52"	Latch & Door	5/Multiple	$679.99
Riptide SM 55/L&D/SC/H	12	42"	Latch & Door	5/Multiple	$569.99
Riptide SM 55/L&D/SC/H	12	52"	Latch & Door	5/Multiple	$599.99
Riptide SM 55/L&D/H	12	52"	Latch & Door	Variable	$679.99