Minn Kota Riptide SF Bow Mount Trolling Motor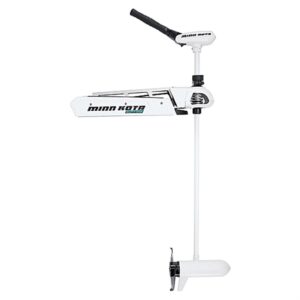 Minn Kota's Riptide SF bow mount trolling motor was built using the KISS (you know, Keep it Simple…) theory. Less moving parts = greater reliability. The Riptide SF is mounted via Minn Kota's Mono Arm mount design built out of extruded aluminum for strength and saltwater durability. Built in lift-assist makes this no-nonsense trolling motor much easier to deploy thanks to the gas strut which lifts the bulk of the weight for you.
Other features of the Riptide SF include Bowguard 360 with dual bearings and a counter-tension stabilizer with translate to solid mounting, reduced play even when stowed and quieter operation. You can also check the status of our trolling batteries via a button on the control unit, and no doubt be surprised by how much you have left thanks to the Digital Maximizer which extends the battery life and reduces heat.
Prices for Riptide SF
Thrust levels for Riptide SF:
80lb and 101lb
Riptide SF Specifications:
Manual Tilt/Extend Tiller Control
Available in 52″ and 62″ shaft lengths
Available with Weedless Wedge 2 propeller
Composite Shaft Construction
Digital Maximizer included on all models
Rugged Mono Arm mount with Lift Assist

Model			Volts	Shaft	Speeds		MSRP
Riptide SF 101		36	52"	Variable	$1139.99
Riptide SF 101		36	62"	Variable	$1169.99
Riptide SF 80		24	52"	Variable	$1059.99
Riptide SF 80		24	62"	Variable	$1089.99