Minn Kota Riptide SP Bow Mount Trolling Motor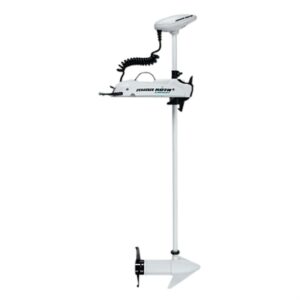 The Riptide SP is great cheaper priced alternative to the Riptide ST For those with smaller, lighter boats who can make due with 55 or 70lbs of maximum trust. While the price is cheaper, the Riptide SP doesn't sacrifice features or durability and is available with everything you would expect on a top of the line Minn Kota trolling motor such as the GPS i-Pilot, Auto Pilot and standard Co-Pilot wireless remote control.
Riptide SP is Mounted via a PowerDrive mount with deploy assist for convenience and increased speed of switching to the trolling motor. A foot pedal is optionally available also, to allow for hands-free control for those who may need it.
Prices for Riptide SP
Thrust levels for Riptide SP:
55lb and 70lb
Riptide SP Specifications:
Electric Steering
Available in 48″ and 54″ shaft lengths
Available with Weedless Wedge 2 propeller
Composite Shaft Construction
Digital Maximizer included on all models
PowerDrive mount on all models

Model			Volts	Shaft	Speeds		MSRP
Riptide SP 70/i-Pilot	24	54"	Variable	$1139.99
Riptide SP 55/i-Pilot	12	48"	Variable	$999.99
Riptide SP 70/CP/AP	24	54"	Variable	$1059.99
Riptide SP 70/CP	24	54"	Variable	$859.99
Riptide SP 55/CP/AP	12	48"	Variable	$919.99
Riptide SP 55/CP	12	48"	Variable	$719.99