Fishing from a Kayak = Guaranteed Catches?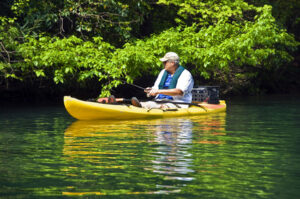 Fishing from a kayak implies the promise of silence, stealth, and simplicity? Don't fall for it on a whim.
In marketing campaigns and on television, it looks like kayak fishermen are practically begging the fish to leave them alone, but it's simply not true.
Craigslist and eBay are bulging with "like new" kayaks that come with a story like this: John Doe hears about this revolutionary ninja method of catching fish; he spends over a thousand dollars on a kayak, paddles, transport racks, rod holders, and lots of accessories; he decides—after two or three trips—that kayak fishing requires determination and strategy and it is not how he'd like to spend his weekends. Like any other sport, you don't become successful by wearing the jersey.
As a kayak fisherman, you DO have advantages.
Versatility: You can float and safely navigate the shallowest pond to the open ocean (weather permitting, of course). You can reel in a bass on Friday and an amberjack on Saturday from the same boat and with very little cost compared to a "real" boat.
Stealth: You can sneak up on your targets, once you have learned the art of stealth.
Better access: And you can get in much closer to the shore than in a boat. Compared to wading you can cover much more ground and access areas that might be otherwise difficult, if not impossible to get to.
Is kayak fishing convenient?
However, do the benefits outweigh the cost? Disregard that romantic image and consider the knitty gritty. Imagine yourself loading and unloading a 100lb boat and sitting inside for hours—your elbows a few inches above the water line.
The biggest mistake that new kayakers make is believing that it's convenient. Your arms will hurt, your back will be sore, your legs will fall asleep, and then you might have to lift the boat over your head before you go home. You will carry most of everything—including your lunch and life-sustaining water—inside a milkcrate that you'll hate turning around to access. Catching a sizeable fish is a wild rocking, thrashing motion that could capsize anyone in certain situations. Your expensive reel might end up underwater—and if you're launching from the surf, it most likely will.
It takes skill and creativity to catch fish from a kayak.
You need to humble yourself.
You need to learn how to paddle efficiently, but with stealth: No lily-dipping and no splashing around.
You need to be prepared to troll, drift, anchor, and repeat if neccessary.
You need to leave the five bait-boxes at home, pick a luring strategy, and stick with it because changing your mind in six feet of water is more difficult than anyone wants to experience on a sunny Saturday afternoon.
You need to learn the landscape, it's productive zones, and how the water is behaving.
You need to learn how to find clues like the tail of a feeding red drum or the surface slap of a largemouth bass, because it becomes much harder to see the fish when your eyes are not that far above the water line.
Your buddy who can stand inside his kayak—he is an acrobat and he has fallen overboard or he is overdue.
You need to tie all accessories down in the most calm conditions so that you can concentrate when they all fall overboard while you're attempting to find a flounder's mouth with a lip gripper.
As a kayak fisherman, I don't aim to discourage.
Kayak fishing is both calming and incredibly thrilling. It's penny-pinching and thrill seeking, hand in hand. It's a sport that anyone can enjoy as long as you don't expect to float around with a line in the water and leave with something to speak of. If I have not discouraged you, do some research. Kayaks are becoming very diverse, specialized, and are worth testing to see if they fit your needs. Read reviews, ask questions, and attend demo events. Find a truthworthy outfitter and rent many times before you buy. Most importantly, wear a quality PFD and carry a VHF radio (preferably a floating one) no matter how much of a hassle they might seem to be.