Destin Fishing Report for March 5, 2015
Its heating up!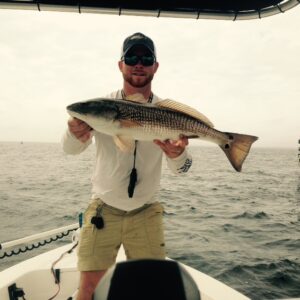 We have noticed a noticeable change in the inshore scene lately. Spanish Mackerel are starting to migrate into the harbor which is always a great sign that warmer water is upon us. They are slim pickens and skittish but will eat a small spoon presented in the right manner – not much size yet either but great to see them. We have not caught any on trees yet but it is just a matter of time. Sheepshead are here but finicky in the clean incoming tide water. They are liking live bait in the dee per rocky areas or areas that are covered in barnacles – pilings, old docks, bridges etc. Again, an outgoing tide seemed to be the ticket this week with the dirtier water. Reds are hot but are still deep in the bay. We have managed several upper slot fish on light tackle with 20 lb test leaders and small hooks on live bait. The flats are still pretty dead and they haven't found the docks just yet.
The offshore scene is also still hot with Jacks being the primary target. Minimal pressure has these fish in close and hungry for just about anything! Cobia are just around the corner and rumors of sightings on the Emerald Coast have already begun!