12 Best Tuna Fishing Lures: Trolling for Yellowfin & Bluefin
If you're anything like me, you don't have the chance to go fishing nearly as much as you'd like to. When it comes to offshore fishing, that's even less often.
That means when I DO get to go, I want to have the absolute best chance of catching my targeted species. I don't care if it's a $10 or a $100 lure that produces the best – whichever it is, that's the one I want to be pulling.
Tuna is one of my absolute favorite fish to not only catch, but eat! So when I'm heading out trolling I ALWAYS want to be pulling something to bring in a tuna or two for sushi for dinner.
No matter what you try, be sure to keep track of what hits when so you can start seeing if any patterns develop. 
Some of the most productive tuna lures are:
Squid Rigs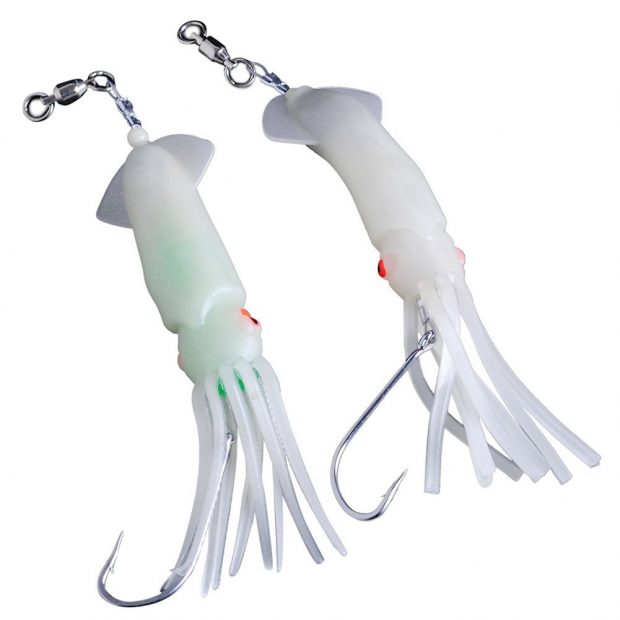 You can run these as singles, but many like to rig these in a chain of 4-6 squid. I like to stick with natural colors like light brownish or cream / off white. You can pick sizes that you like, but the most common are in the 11-17″ range with 13″ being a solid all around producer.
Some people like to use the rainbow colored squid as well, so you might pick up a couple multi-color varieties and test them in your area during different times of year.
Cedar Plugs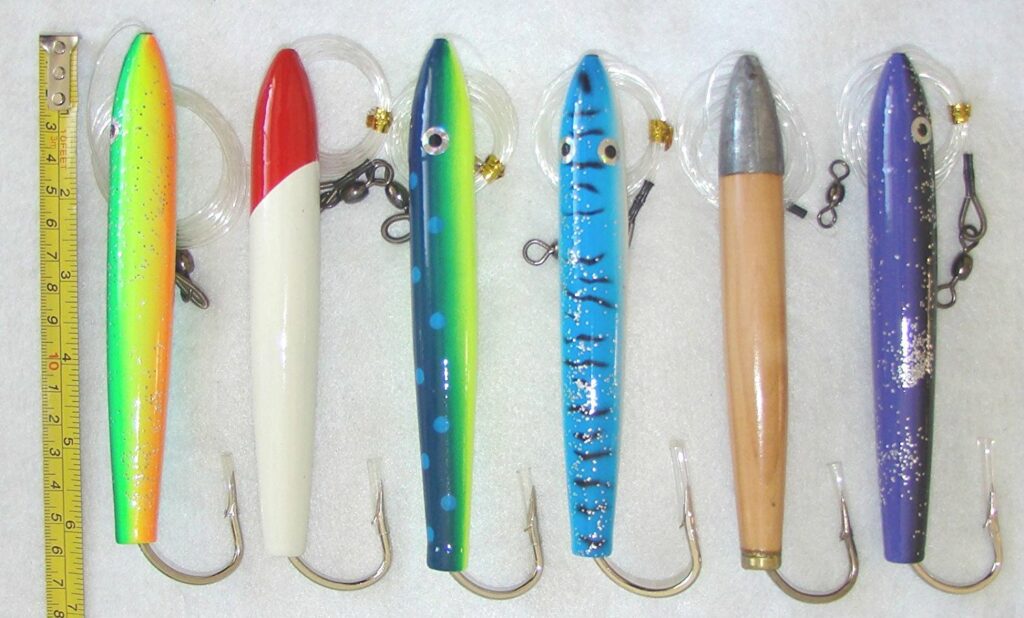 These tried & true timeless lures produce over, and over, and over. Some prefer to run them in natural, while others like the painted variety. You can run them as singles or in chains. Try running them WAY, WAY back on the long long rigger.
Soft Plastics

Hogy, Slug-Go, and similar are common plastic baits used in some areas. Look for 10-12″ size and rig them with a heavy fluorocarbon leader.
Ronz Lures

Ronz lures are most popular in pink with a second choice coming in close with either silver or white. You can jig them vertically, cast them at a school or troll them. 4oz seems to be the most reliable all-around producer.
Hogy Epoxy Jigs

When you find a school, try casting a Tuna Rigged Hogy at them. Blue silver or pink are some of the more commonly used colors.
Spreader Bars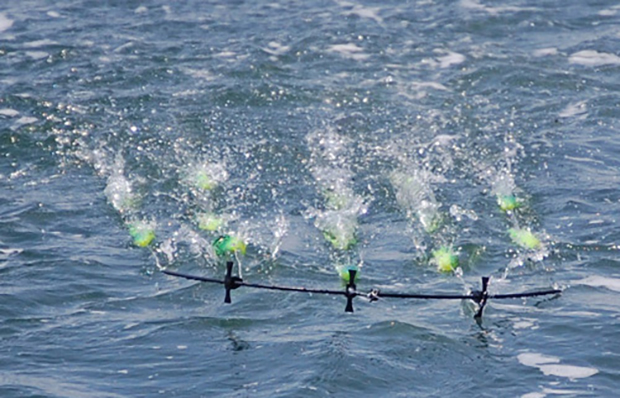 Some people love and swear by spreader bars with squid lures. This concept is similar to an umbrella rig in that it presents the lures in a similar manner as a natural school of bait. You can try the natural squid colors, but some people really like the rainbow colors as well.
Mann Stretch 30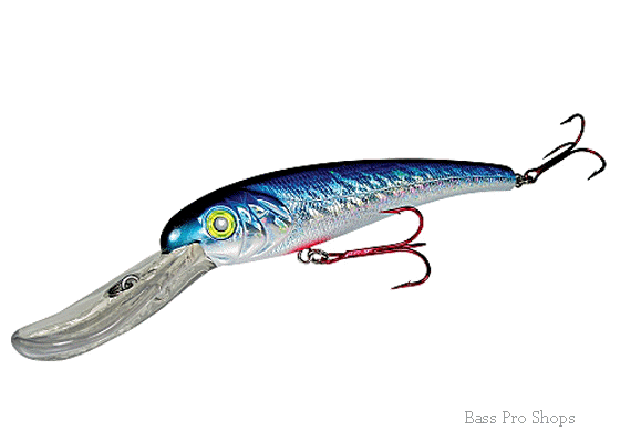 Mann Stretch 30's will run deeper in the water column to help attract fish that are surface shy.
Mirrolure in Pink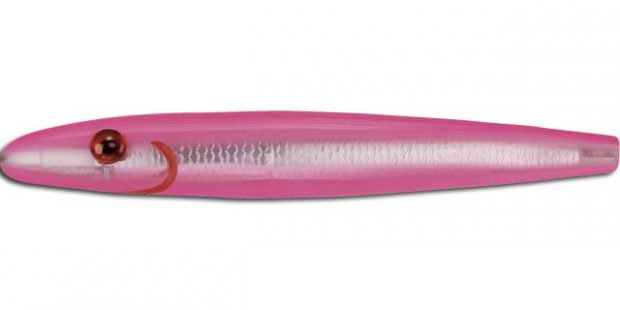 Pink Mirrolures are quite a common recommendation for a consistently producing lure among offshore fishermen who've tried them.
Feather Lures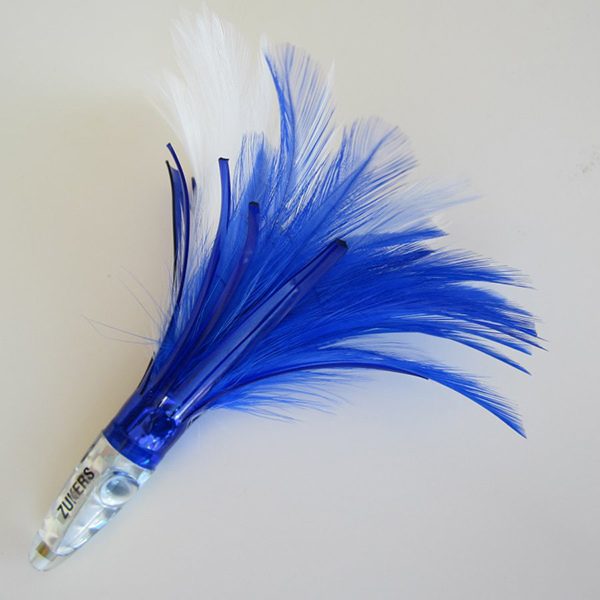 Feather lures come in many colors made by various manufacturers, but Zukers, Ilander and Sea Witch in blue and white or blue purple and black are the most recommended color combinations, with a close second for green and yellow. You can run them individually or on spreader bars.
Green Machine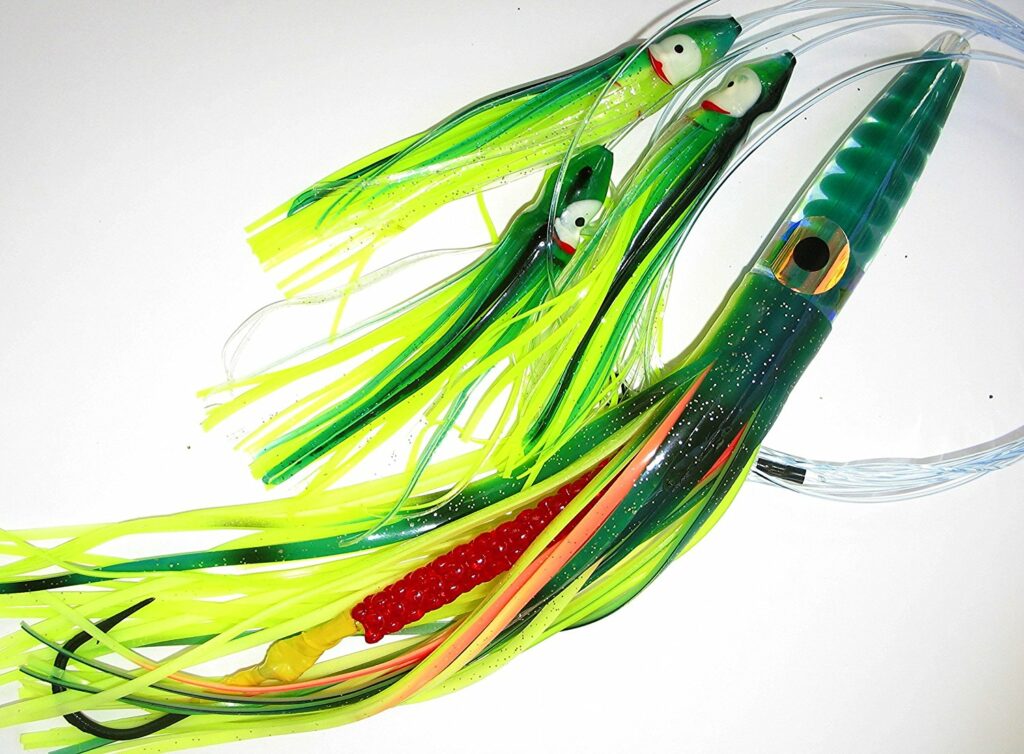 The Green Machine is a tried and true lure, but can be hard to find anymore. If you can get your hands on some, I recommend you pick them up and give them a try.
Williamson Lures Tuna Catcher Kit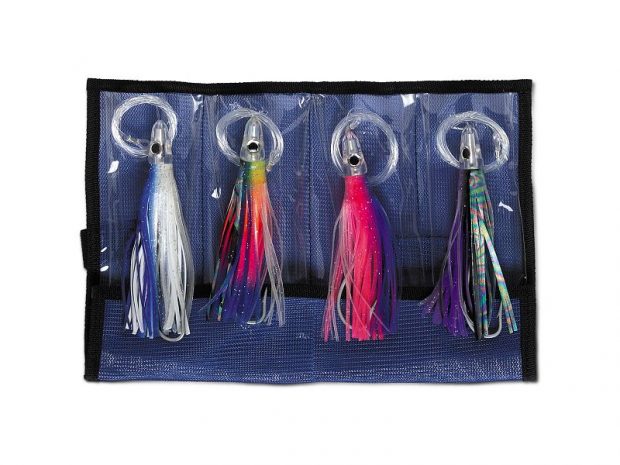 Williamson Lures' "tuna catcher kit" gives you 4 acrylic head vinyl skirts in popular color combinations for a very reasonable price, rigged and ready to run.
Boone Rigged Tuna Treat Pack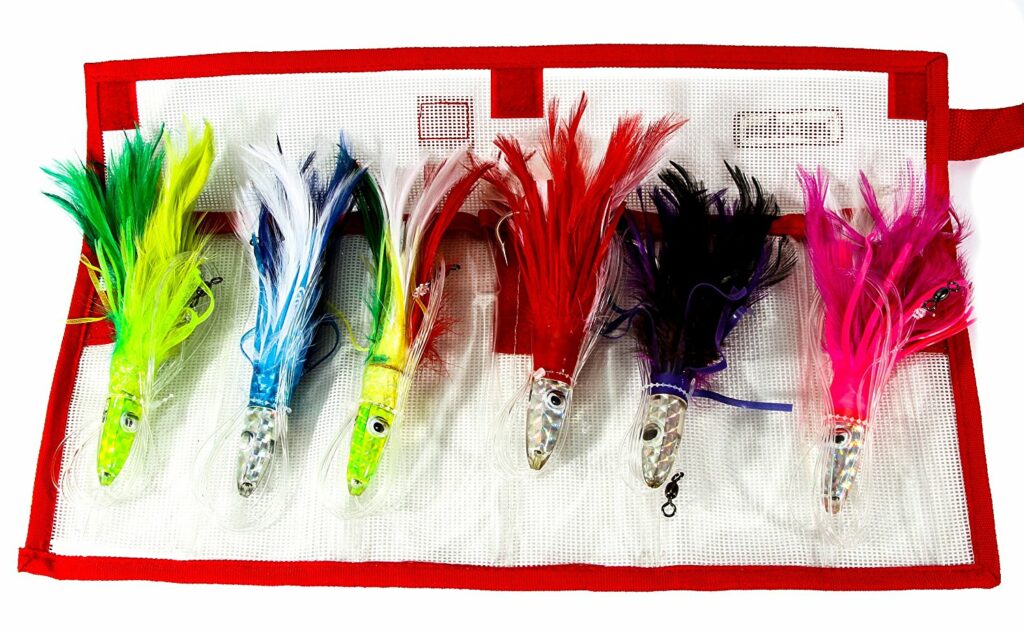 The Boone rigged "tuna treat pack" can be a great, cost effective way to add to your selection and give you a number of color combinations for your spread.
In Summary
Forget all that "Wicked Tuna" stuff you see on TV. We all know that isn't real. Give the lures mentioned above a try and see what works best for your area. Then stick with your best performer. You might want to get a couple, because nothing sucks more than having a lure that is producing hit after hit get ripped off and have your bite go dead.
I also like to mix it up and pull some others in the spread to give them a full buffet to pick from or occasionally catch an non-targeted species like wahoo or mahi-mahi.
Mostly – please report back! I'd love to hear what is working for you where you're at.